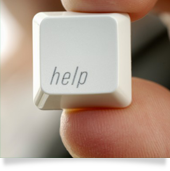 In the last few years computers in the home have become nearly as common as TVs and washing machines. Working well, the improvements they can make in day to day living are astonishing. It's possible to buy almost anything online, which is of enormous benefit not only to busy working people, but very many disabled people are now able to 'shop' for themselves without leaving their own living room. We can communicate easily with friends and relatives all over the world. So, can you imagine how your stress levels would rise if your computer didn't start one morning? Suddenly you wish you'd had someone look at that error message.
Think of it like your health – make time now to prevent damage in the future. Take a few minutes each week to back up your documents to a Cloud, CD or USB stick, and think about getting a technician in every six months or at least annually to run a health check. Treat your computer to a thorough health check, and give yourself the protection of knowing you will not lose your vital information through a hardware or software problem.
For a limited time we offer a bundle of "System Health-Check" and "Virus, spyware removal and protection against threats" for only £29, saving you £39!
(Regular price £68)
What is "System Health Check & Optimisation" service?
"System health-check" is a service similar to MOT for cars, except for your computer. Our engineers follow a strict procedure in order to test the components of your computer, remove unnecessary programs, boost system performance, install updates and missing drivers, validate licenses and make sure that the system works as it is supposed to. I recommend this to be done at least once a year in order to maintain the performance of your computer.
Book a time slot now in order to receive this special offer for only £29 - saving you £39!
We will get back to you within 48 hours to confirm your booking. Meanwhile, why not to read our opinion about antivirus software / security that iFixComputers.eu recommends for the last 2 years?
Subscribe Now to Get Discounts:
[smlsubform]